Thanksgiving is just around the corner. Almost everyone in the U.S. is now busy with their preparation for Thanksgiving Dinner and all travel plans to be with family are already finalized.
This U.S. (and Canadian) holiday's precise historical origin is primarily disputed. Although Americans usually consider the First Thanksgiving to have happened in 1621, at Plymouth Plantation, in Massachusetts. Traditionally, this holiday was a celebration of thanksgiving to God for a bountiful harvest. However,
Encyclopedia Brittanica
(and majority of the people today) agree that the holiday
moved away
from its religious roots
to allow immigrants of various background to participate in this tradition. Today, Thanksgiving has become more of a celebration of families getting together, of pre-Christmas shopping frenzy, and of football fans going wild as the games ensue.
It's amazing how easily we have embraced this change in the tradition for Thanksgiving. A holiday that was born because of the early settler's acknowledgement of God's sovereignty is now replaced with the practice of giving importance instead to the gifts and not the giver. This is probably a case of what I want to call a "Spiritual Dementia".
Dementia is primarily a debilitating disease.
Google health
describes it as
a loss of brain function
that occurs with certain diseases. It affects
memory
,
thinking
,
language
,
judgment
, and
behavior
. It sounds to me, though, like this also best describes the aspects of our spiritual status that most of us have a problem with today.
We have lost the ability to function mentally that we (our spirits) are no longer able to
remember and carefully think
about God and His marvelous work
.
Job 37:14 reminds us of this truth:
"
Hearken unto this, O Job: stand still, and
consider the wondrous works of God
.
"
We probably have allowed our spiritual lives to be
apathetic
over the past years that led us to lose our thinking skills. We no longer consider (or think carefully; or take into account) the wondrous works of God. Today, we are more prone to focus our thankfulness on what we HAVE rather than give thanks to God for HIS marvelous deeds in our lives. Moreover, we are thankful only for the things we SEE in our lives.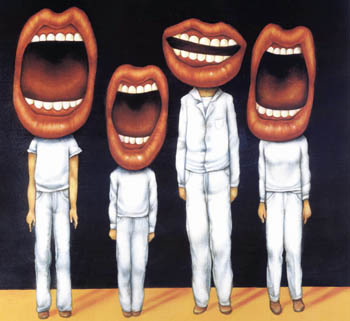 What do you say when you're asked to mention the things you're thankful for? Don't we usually hear ourselves say "I'm thankful for MY job, MY family, MY good health, MY friends, MY financial stability amidst the economic decline, MY abilities, talents and skills." It's really all about OURSELVES. Families gather together because we want to treasure OUR time together and give thanks for that... Friends enjoy each other's company because we want to celebrate OUR relationships and enjoy EACH OTHER's company and give thanks for that.
I do agree that it is very much important to give thanks to our God for all these, but these are really only the small stuff that we sweat about.
Surely we should understand that there's more to life that we should be thankful for than the things we accumulate in our lives.
"
In every thing
give thanks: for this is the will of God in Christ Jesus concerning you."
(1 Thessalonians 5:18, KJV, emphasis added)
Don't you notice that the verse says IN everything and not FOR everything? That's because our gratitude to God should never be based on what WE HAVE but on what HE HAS DONE!
The original Greek word used for "In" in this verse is "
ἐν" (en), which is defined as a
primary preposition denoting (fixed) position (in place, time or state). It denotes where you are in your life at the moment... it pertains to your circumstances. That is why when we talk about "Thanksgiving", we ought to know that it's not for what we HAVE, but it's an opportunity for us to focus on what GOD has done, is doing and will be doing in our lives! We are thankful to God in all circumstances, even the ones we find difficult to be thankful for. Besides, this is why the Word of God affirms in Romans 8:28 that:
"
And we know that all things work together for good
t
o them that love God
,
to them who are the called
according to [his] purpose." (KJV, emphasis added)
Think about this for a moment. The verse does say that "all things work together for good", but it emphasized that it is
TO THEM THAT LOVE GOD
. Do we say to ourselves that we are one of "THEM?" Are we
behaving
like one of "THEM"?
Here's the Diagnostic Testing based on the Word of the Lord Jesus Christ... because, after all, it will always be the only source of our wisdom...
"
Jesus said unto them
,
If God were your Father, ye would love me
: for I proceeded forth and came from God; neither came I of myself, but he sent me." (John 8:24, KJV, emphasis added)
"

If

ye love me,

keep my commandments

." (John 14:15, KJV)
"

Jesus answered and said

unto him, If a man love me, he will keep my words: and my Father will love him, and we will come unto him, and make our abode with him." (John 14:23, KJV)
"
This is love for God: to

obey his commands

. And his commands are not burdensome,"
"
And hereby we do know that we know him,

if

we keep his commandments." (1 John 2:3, KJV)
Shall we spend the next couple of days checking ourselves and allowing God to reveal our REAL motive for celebrating Thanksgiving? Let's have our spiritual checkup and evaluation for any signs and symptoms of "Spiritual Dementia". Then come Thursday, let us face the question again...
"What are we thankful for?"
"Saying, We give thee thanks, O Lord God Almighty, which art, and wast, and art to come; because thou hast taken to thee thy great power, and hast reigned." (Revelations 11:17, KJV)
HAVE A TRULY WONDERFUL THANKSGIVING!